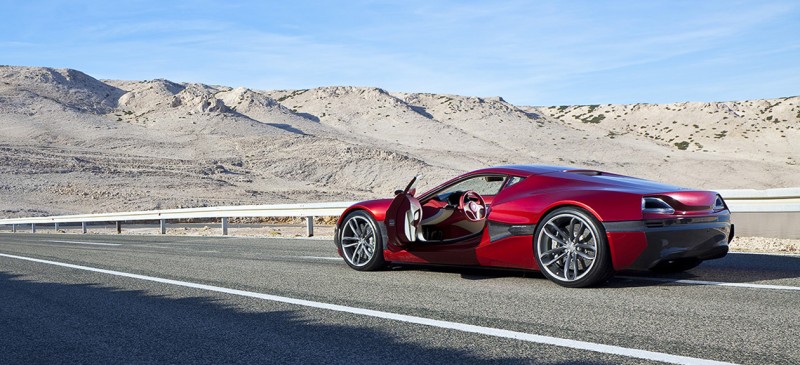 Envision a future devoid of petrol engines, replaced with high-performance electric vehicles, rendering the familiar hum of combustion engines obsolete. This future is closer than you might think, courtesy of Rimac Automobili, the pioneers of the first electric supercar, the Concept_One.
Key Specifications:
Power: 1088 horsepower
Motor Torque: 1600 Nm
Battery Capacity: 92 kWh
Range: 600 km
Acceleration 0-100 kph: 2.8 seconds
Top Speed: 305 kph
The Concept_One is a groundbreaking supercar that introduces an innovative propulsion concept. Weighing 1650 kg and boasting 1088 HP, this speedster rockets from 0 to 100 km/h in a mere 2.8 seconds and attains a top speed of 305 km/h. With its 92 kWh Battery Modules, it offers a remarkable range of up to 600 km.
The vehicle's powertrain is unique, comprising four sub-systems, each including a motor, inverter, and reduction gearbox. Each sub-system independently drives one wheel, employing an All Wheel Torque Vectoring system. This technology facilitates a novel approach to vehicle dynamics, as explained by Mate Rimac, the CEO of Rimac Automobili. He asserts, "The electric motor outperforms the Internal Combustion Engine (ICE) in almost all aspects, particularly in a sports car."
The Concept_One's carbon-fiber body, designed by Adriano Mudri, exudes a blend of simplicity, clarity, and sporty elegance, ensuring it stands shoulder-to-shoulder with its competitors in the power and exclusivity class.
The interior, masterminded by a team of former Pininfarina employees led by Goran Popović, presents a high-tech supercar ambiance that is both appealing and user-friendly. Attention to detail extends to the infotainment system and advanced features such as head-up-displays and soft-close doors, matching the propulsion technology in its sophistication.
Rimac Automobili, a youthful enterprise that designs and manufactures high-performance electric vehicles, drivetrains, and battery systems, was birthed when founder Mate Rimac transformed his old BMW into a race EV. His incessant exploration and improvements led to the creation of the next generation supercar, the Concept_One. Currently, a team of 20 multi-talented engineers and designers in Croatia continue to innovate, revolutionizing the automotive industry. The Concept_One's production is capped at 88 units, marking the beginning of a new era in electric vehicles.